23rd October 2008
hi all, well here we go,
its been a year since my last diary update on markcrook.co.uk and its been a long year.
I have been keeping people updated on my forum and if your not already a member please feel free to come over and sign up to give and receive free slimming support HERE
so what have I been doing? well for years now I have been having sleep problems, where I have believed that I stop breathing in my sleep which wakes me up, as a consequence of this my memory has become really bad, and my energy has just been none existent. In early Jan 08 I went the doctors and mentioned this to him, along with my lack of weight loss following the changes weight management program since October last year (more about that later). the doctor was a nice young Irish Dr. who had recently been doing some work on obesity and was well clued up. he said he is almost positive I have Obstructive Sleep Apnea (OSA) and that its a probably cause for me not losing weight (not the cause for gaining, just for not losing). so he sent of a request for me to go and get looked at and have it investigated in the sleep clinic at the local hospital.
Over the last few months since then I have had a couple of home sleep studies done, the first was a simple test, where I had to wear a computer a bit bigger than a watch on my wrist and a pulse monitor on my finger, this test can say for sure if you have OSA but cant say you have not.
after that I was sent for a full home test which involved having my self wired up to a little computer and monitored my breathing, snoring, leg body and chest movement here is A pictures of me wired in..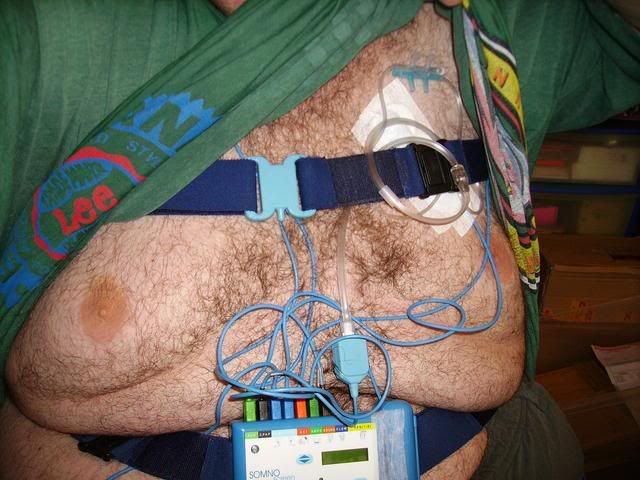 that test was done over night and then the results downloaded and sent of to a specialist who then called for me at the beginning of October 08, when I went in to see him he said I have mild OSA and severe snoring, which is causing my throat to collapse in my sleep. for the OSA he has recommended me to try a CPAP machine (constant positive air pressure) which blows air into me while I sleep and stops helps keep my airways open, but has said I will only get worse, and its likely to kill me :-(,,, his words where, I'm going to die young, and being 30 next month, I'm no longer young am I, he has said that no diet will allow me to lose 16stone in the short time I have left to lose it, and that weight loss surgery is urgently needed, so has referred me to the head of bariatric surgery in the local hospital. I mentioned this at my weigh in the following week, and the dietetic I told has sent off my file to the head of the dietitians I'm under on the changes plan, she then called me in and went over the findings and said the local hospital can not refer me because of my post code but she can, and is. so or the last few weeks I have been past from pillar to post, all over the show, but the result is that its likely I am going to be referred for urgent surgery. in my eyes its not a fast process, but when asking the dietitian, I was told it takes 18 weeks from referral to surgery, and the 18 weeks are spent going through all the pre opp processes, which is a hell of a lot faster than I was expecting, although she did then say there is a delay though in getting the first appointment through which can take up to 16 weeks lol. I said I was up for surgery now, because no diet plan seems to be able to help, although I'm still trying and hope the CPAP machine may get my metabolism going again which has been proven to have nearly stopped due to the sleep problems.
on Tuesday this week (21sy Oct 08) I went along to be shown how to use the CPAP machine and bring it home for a 1 week trial so we can see if it will work or not. its only a little machine, and not so uncomfortable really, I set it up and tried it on Tuesday night, and for the first time in years I fell asleep on my back :-) I did still wake up several times, but mostly I think because my body was not used to sleeping on my back, I had cramp twice too, again I thing because of my leg positions being different. I tried sleeping on my side a bit, and once asleep was fine, but the mask does get in the way a little on your side. I woke up in the morning after having a not so bad sleep with a spot on my head, dry mouth and morning breath (think about it, your breathing into a mask and then back out of the mask, lol) so last night I took mouth wash with me to bed, and when I woke up this morning, used it, and went back to sleep. up to now, I'm still getting used to sleeping with a mask on, and although I could not get to sleep at first (I went to bed at midnight and got back up at 1am, then went back again at 3.15) it does not seem so bad, and the benefits are well worth it, although again I got another spot, this time on my cheek (I think because of my cache being kind of pinched between the pillow and mask. But hopefully I will be more energetic, and be able to remember to do things now too, its been getting worse on the memory side of things, so bad I would go into the kitchen to do things and forget what, go the loo, and sit back down, then remember hours later what I went to do.
I mentioned before about the Changes weight management program, this is a plan set up and run in Knowsley by the NHS, and follows national findings on healthy eating, to sustain a healthy and active life style, and is a great plan. it involved a Ten week course of 2 hour "lessons" in a friendly group environment, followed by some support one on one sessions 1month, then 3 months then 6 months after the ten lessons.
During the ten lessons we had different people also come in, and give help and advice on different aspects of a health lifestyle, one was a CBT (cognitive behavioral Therapy) therapist, and an other was a couple of people from the local community gym/sport centre, both gave helpful insights into things we should all be doing, and as a follow on I was referred by my doctor to the activity for life program, which was an 8 week gym course (free of charge) where we where given a time table of events and could attend any we wanted, where we would be watched over by trained staff, and give easy exercise programs, I attended the aqua fit and gym where I just done a couple of resistance machines sitting down, and a little on the exercise bike, both once a week. After the 8 weeks I then went onto do a 3 month gym all access pass which allowed me to do classes if I wanted (which I have not) and use the pool and gym as much as I wanted ( I have and do use the gym as much as possible, although the sleep problems, and lack of energy mean I have not used it much) this 3 month pass though only cost £3 witch was great :-) I'm just coming up to the end of the three months and I'm not sure what happens next, I cant afford the £30 monthly charge if it goes up to full price, but I will keep going, as swimming is only £3 a go anyway (and sneak in the gym shhhh)
I also made arraignments at the beginning of the changes program to see a CBT therapist, and try to sort out my mental state (not that I'm a nutter or anything but thought I may as well go for everything it cant do no harm). I started to see Kath this year, and she has been excellent, I was scheduled at the first assessment for 20 classes to deal with a whole host of issues, and for the first few it was gathering all background info about my life. the first 10 sessions dealt a lot with over eating and depression, finding the causes and triggers and trying to deal with and change them. early on I was diagnosed as being depressed (although I agree I did carry on hiding this, and id not want to see Dr. for help, and never did) also early on (first session I think) I was diagnosed as having binge eating disorder, which over the whole CBT treatment has been the main thing worked on, trying to find out trigger, causes and reasons, and then put them right. Throughout my whole life as she delved in and we discussed, I found one thing that was cropping up and interfering with everything, and I mean everything, I did not think it was having such a big impact on my life, when in fact it was. even now in this CBT treatment again it was causing me to twist my words and not tell Kath, instead I hid it, and although I never lied once I did not tell the whole truth either. Each week I was doing food and thought diaries, but most of my thoughts where being missed out, since I was supposed to be putting all thoughts down, I found myself not doing any, so I did not have to put these certain ones down. in the end about half way through my treatment I caved in and put on the top of one of the thought diaries in big letter... I AM GAY - SO WHAT ! phew, relief it was out, I have never been uncomfortable, and never had a problems with my sexuality, but have hidden it just to stop rejections (well to stop rejections was the CBT reason, and I agree now thinking about it, but at the time did not so much, till it was shown to me), so ok now I have told someone, what happens next, after talking it through it was decided this really is a big cause of my depression, and binging, I would turn to food to cope with emotions, and this was a big emotion to be bottling up. so ok who shall I tell first? well what a week that was, I came home and was chatting to someone no msn, and just blurted it out... then to someone else, the response was good and well taken, who next, MUM oh no, well kind of oh no, in my mind she has always knew as have a lot of people, at least had suspicions, so I had to pluck up the courage to tell her, in the end I did, and she said yes so what, I think she took it well, already thinking it like, but I also think she has hidden a lot away too, nothing has really been said by family since, but they all know now, and that's all that matters, it spread about the forum, just so people know, and also so people knew I'm no different, call me what you like, I don't care, I will still be telling gay jokes, difference is now I can get away with it lol. right I'm rambling on a bit again, any way, incase you did not know then you do now, if you don't like it, then go away, if you don't care, then stay and read on;-)
I have two sessions of CBT left, but Kath has been ill, so its over a month now since my last session, I know the last two are going to be sorting out assessments for the surgery incase it does go ahead, and over the whole course there has been a big focuses on the over eating/binge eating, its been worked out between all the people helping that I am missing meals out all day, then binging in the night, when I should be eating regularly. I now have some strict rules in place..
I MUST eat within one hour of waking up
then I MUST eat every 3-4 hours till I go to bed.
this is a fundamental rule in sustaining your metabolism and is now recommended EVERYONE should be doing, no matter what plan diet or routine you follow you should be eating regularly so your body keeps burning fat.
along with the regular eating I'm trying to drink more water, I have come off the Pepsi max (although had some this week) and now I'm drinking flavored water, the Pepsi max is fine on all diets but no diet takes the effect of the caffeine into account, and with my sleeping problems caffeine was another problem
I'm more focused on healthy eating, and regular eating, along with the water intake, more exercise (although I cant manage much, anything is better than none) and then with this CPAP machine hopefully going to help I'm a lot more positive in my thinking, again, hence the restart of my diary, with updates as often as possible.
THERE IS loads of things I have missed off in this update, and I will mention some of them as we go along and as I remember them.
YOUR HELP IS NEEDED !
the future is brighter, even though its expected I could die within the next year if I don't lose weight, but I'm staying positive and still trying, if I can lose weight before surgery then great I wont need it, even though I have been told its not likely I will lose much if any, but I'm determent to give it a dam good go, and that's where I NEED YOUR HELP, I don't mind people just reading the updates in this diary, but I would prefer you to come along to my forum www.fat2slimforum.co.uk and offer some support to me, if you want support yourself then its also a great place, the forum is not just for me, its for everyone. you don't have to need support to come along say hello and follow events, take part in quizzes, have some fun, just as long as your willing to support people who need it IF YOU CAN. Fat2slimforum is NOT a diet site, but just a bunch of friendly people who are there for one and other.
If you don't want to post then feel free not to, but please give a hello so we know your with us ;-) also we have a GUESTBOOK where you can leave quick comments and thoughts about me and the markcrook.co.uk site.
I don't get weighed every week, but will start to update my weight chart on the about me section of this site as I do get weighed, and I will sort out some more pictures soon too. although I have not changed much since the ones already on where taken. I also plan to sort that picture page so it loads faster too, but please be patient till its sorted, they will load in a few mins.
If you have any thoughts, comments or suggestions (other than my spelling and grammar) feel free to contact me or leave them on the GUEST BOOK , or FORUM
and I look forward to meeting new members on the FORUM soon.
now enough of my waffling, please check out my diary regularly to see how I'm doing, starting today tit will be updated daily and more than daily if I'm able to.
Bye for now. Mark Crook.